"We never go anywhere" my daughter remarks to her friend as they amble along in front of me. We are on the back road home, after a short trip to search for the wild deer that can sometimes be found hiding amongst the neighbour's cows a few fields away. "Let's go for a spin!" I suggest. "We can go to the moon!"
So a few moments later, kitted out in hiking boots, waterproofs and a backpack full of treats, we drive the winding road heading towards Kilnaboy, up past the Dolmen, turning left at Lemenagh castle and left again by the church. This is the tricky bit, the road narrows, hazel woods spilling over stone walls, some tapering little turns and then there's a glimpse of the open, upside down bowl shape of Mullaghmore. We pull in to the small parking area and walk along the road to the trailhead. The girls are chatting happily as they discuss which route to take. We decide on the longer, more difficult blue path.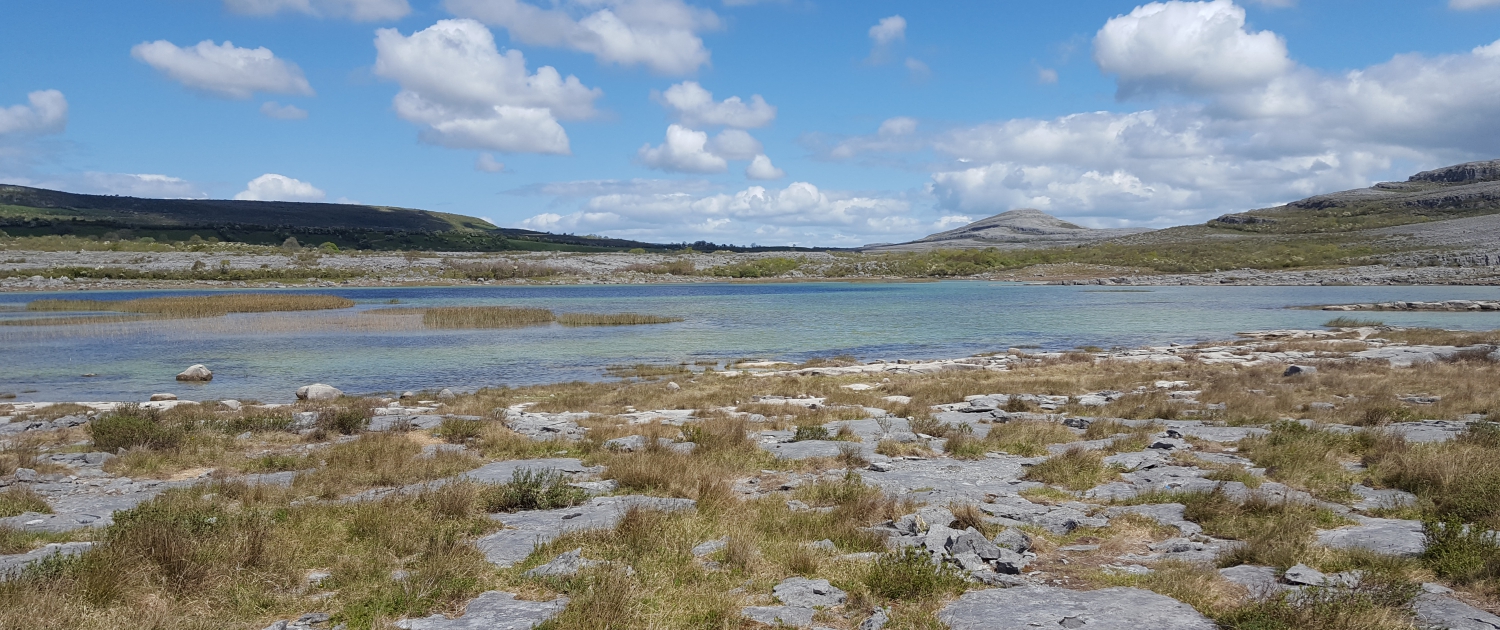 Walking along, this part of the trail is flat and open, tracing a line along the limestone pavement, little bursts of colour catching our eye, as wild flowers peep their heads between the clints and grikes. The lake ahead is Carribean blue, with white sand glistening and rocks tumbling down to greet the water gently lapping on the shore. I find this part of the walk particularly magical. It has an oasis-like feel to it – all of this grey expanse of rock and then a bright blue lagoon. It is eye opening and so tempting to just leap right in. We curve along the shore and start the gentle climb. In through a small copse of hazel wood, there are bright bluebells waving underneath the shadows of branches. The girls love this part, darting around behind the trees, gently leaning down to smell the flowers. It's like a fairy world to them.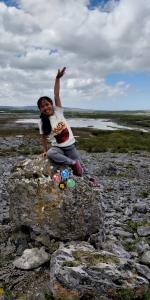 The climb begins now in earnest. Reaching up, the trail cuts through rock and walls. Short of breath, we pause and turn. The view is beginning to spread out revealing the Burren landscape before us; rock, then lake, then pavement, meadow and road. Up and up we climb. And climb. We round the corner and decide it's time for a break. Unpacking the picnic, sipping from flasks, nibbling digestives, munching on apples. Fortified, we now start the climb in earnest. This takes concentration as we grab onto rock face, feet finding footholds. Up and up we go.
Spreading out before us is the moon. At least, that's what it feels like. Undulating circular shapes of rocks and craters, the landscape seems to fold in on itself, then release in waves of colour and light. It is breathtaking. We stop, inhale and take in the incredible mountain as we turn 365 degrees. We spot horses and wild goats on the karst landscape, happily enjoying the gourmet feast of sweet grass and wildflowers. Time to head home. We follow the loop back towards the parking area, descending down, first through limestone, then carefully stepping over ancient walls and peeking into rock enclosures, before again finding the trail leading us back to our car.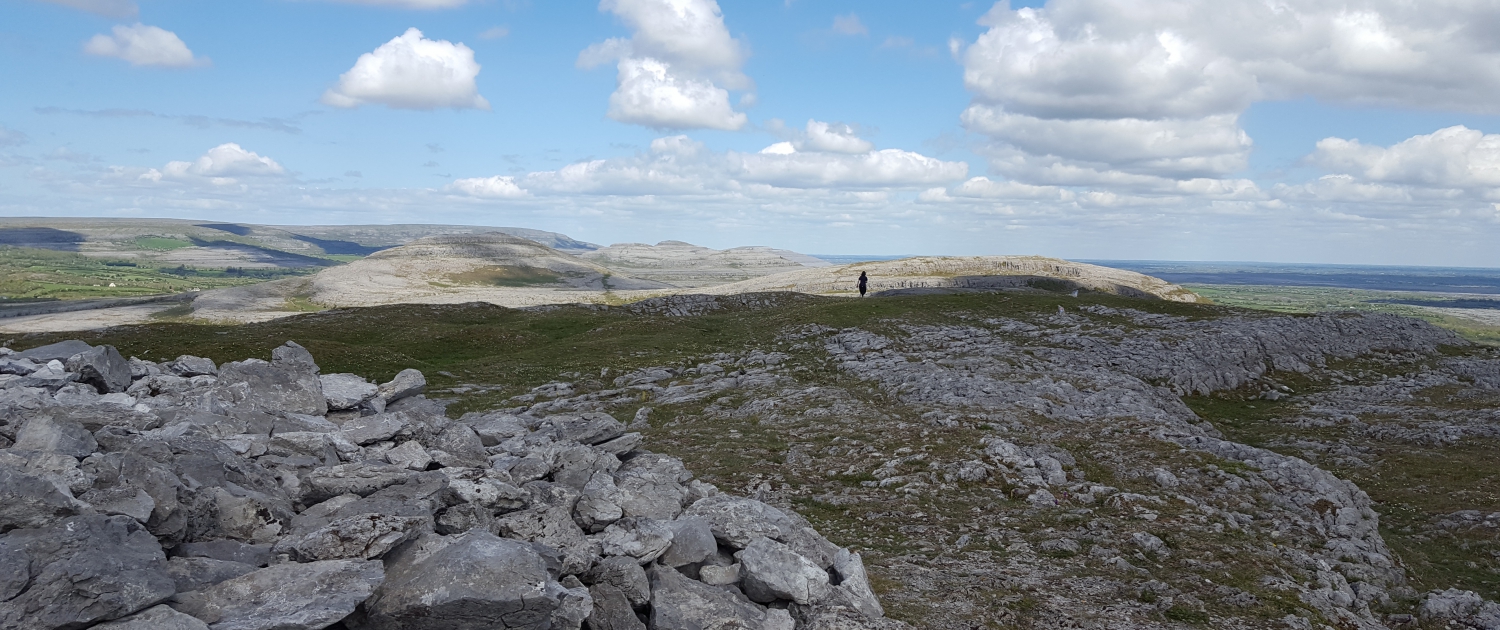 We are tired, happy, Burren astronauts…home now again, following the winding road down Ballyallaban, the valley expanding in front of us. It is a clear day, the sun is shining on windows in Connemara and Galway, glittering and sparkling in front of us. Back we go to Aillwee mountain, back to our cosy cottage, another adventure complete. We light the stove, pour a glass of wine and settle in gently for the evening.
More Local Life Adventures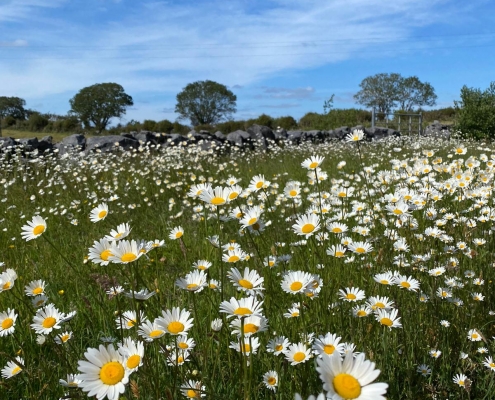 https://www.woodsmoke.ie/wp-content/uploads/2020/06/IMG-20200603-WA0003.jpg
1600
1200
Ciara McGrath
https://www.woodsmoke.ie/wp-content/uploads/2020/05/logo-header-1.jpg
Ciara McGrath
2020-06-26 20:38:29
2020-06-27 21:41:05
Let the Adventure Begin! Coming out of lockdown in the Burren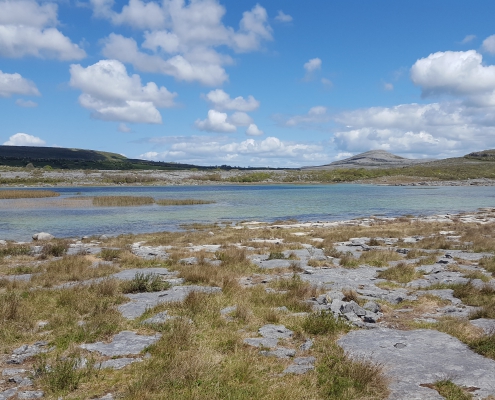 https://www.woodsmoke.ie/wp-content/uploads/2020/05/mullaghmorelake-scaled.jpg
1440
2560
Ciara McGrath
https://www.woodsmoke.ie/wp-content/uploads/2020/05/logo-header-1.jpg
Ciara McGrath
2020-05-21 12:01:26
2020-06-03 19:47:18
A trip to the moon and back – Aillwee Mountain to Mullaghmore!